Club trip to Port Ghalib, Marsa Alam 8-15 June 2015 by Tim Hunt
Eight went to Port Ghalib, Marsa Alam for a week with 5 days diving.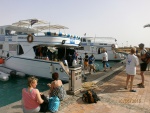 Monday
Minibus to Gatwick, 5 hour flight to Hurgada and nearly 3 hours minibus transfer to our hotel; Marsa Alam airport was only 15 minutes from the resort but also £150 more expensive, so we thought "how bad can it be?" If we go again we will be paying the extra!
Marina Lodge Hotel in Port Ghalib is on the same complex as the dive operation and boat quay…no more dusty transfers in cramped minibuses. Straight out of breakfast and onto the quayside for boat departure….heaven. There is a complex of shops and restaurants about 5 minutes away by water taxi: Alex, Richard and Lauren visited when they were quad-biking, but it was largely deserted….it seems many tourists are staying away because of the military actions and general instability in the whole Middle East.
Tuesday
Inger and I, Richard and Dani, Donald, Kate, Lauren and Alex arrived at the dive centre and did the usual log/qualification book checks, and sorted out gear into transfer crates; the boat "Amy" was 50 yards away, and the quay crew did all the heavy lifting.
Amy is a large lass, well capable of carrying 20 divers, but there was never more than 14 of us, so plenty of room. The deck crew of 4 or 5 were always ready to squeeze bits into wet-suits, lift jackets on and off, change bottles and replace faulty "0"rings, and generally get us safely into and out of the water.
The Dive Guide, Hamza, was extremely knowledgeable, gave the most comprehensive briefings and kept everything running smoothly.
But what about the diving?????
The area was suffering from an unusually windy period meaning that we were restricted to what little sheltered areas there are along this coast of almost unbroken coral reef. The boat trips were "exciting" to say the least: not quite "women and children first", but seasickness pills were consumed! Once we reached the sheltered sites the diving was calm and generally drift free but the visibility was averaging 15-20 metre: not the best we have seen in the Red Sea but good enough to see the wild-life.
We matched-up experienced divers with "novices", and for the most part this worked well.
The author forgot his weight belt on one dive and was unmercifully ribbed for the rest of the week…serves him right!!! One of the less experienced divers attached himself to the wrong group when we came upon another large gaggle underwater….their Zodiac returned him to us unharmed and without paying a ransom. And we learned a very large number of extra underwater hand signals.
The "usual suspects" were sited; 3 or 4 types of butterfly fish, morays, lions, cornets, parrots wrasses, triggers, trunks, chromis, snappers, groupers, angels, trevallies, squirrels, fusiliers, banners, stingrays and stonefish. Turtles and octopi were abundant but only one Napoleon; and Alex saw a sunfish!!!
We did one dive into an area of eel grass to see the resident dugong, but the only sighting of him was a brief air-gasp at the surface visible 50 yards from the boat. Alex and Lauren did a night-dive from the shore; it was necessarily a very safe site, but not that interesting!
Overall impressions: a really well run dive operation, fantastic crew, and it never ceases to amaze me how a chef can create culinary chow in cramped cooking conditions…he managed a superb birthday cake to commemorate my 60 something th. and a scrummy farewell cake on our last diving day.
We loved the proximity of the hotel to the quay, food was OK and the cocktails were drinkable once Dani had trained the bar staff; the evening entertainment was dubious and corny, and for those wanting a little more night-life, there was the 5 minute water taxi trip; I think we were all too tired: 8 hours kip and feelin' bright and chipper for another day underwater was what we wanted!
The trip home was tedious, but at least we had a minibus to pick us up at Gatwick…great trip…let's do it again!